22 May 2022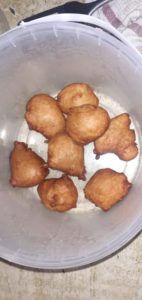 Mama Mafaso is a single mom who, due to unemployment, has struggled to feed her seven children. Due to our "Community Empowerment Program," she has now started a little business selling popular breakfast scones to passersby, thus bringing in an income to help put food on the table.
She was delighted to be moved from our waitlist to finally be provided with her food starter kit. We give God all the glory that He is providing the funds to change lives one delicious scone at a time! Mama Mafaso was one of three new little businesses started this month!
We currently have nine successful "food stalls/businesses" run by single moms, single dads, and child-headed families. To help support a new business, please consider donating to our "Community Empowerment Fund"!
Many thanks!