August 2023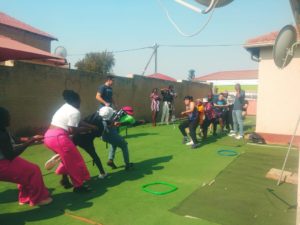 The afternoon was beautiful as the Hlanganani kids ran about playing on the play structure and chatting to one another. Lots of shouts and laughter arose as they played tug of war… a great way to "break the ice." This was good considering the harder conversations to come…the majority of the kids are getting 30% across the board on their school reports. They need to step up and start working to overcome the odds stacked against them.
We began looking at what they envisioned for their lives. Did they want to be unemployed and live in a tin shack for the rest of their lives or make good choices now to have brighter futures? We talked about their values and the values of those around them who influence them the most. This coming weekend, their skills and personalities will also be accessed, as well as their career options reviewed and lastly, what their God-given purpose is…what makes them tick, and what excites and motivates them?
It undoubtedly will take time, weeks, and many upcoming months, but our hope is that it will spark something in them, an "ah ha" moment, that this is the reason to work hard and ultimately, the realization that they are worth it! Prays that the teenagers writing their final school year's exams shortly will study hard and apply themselves, would be much appreciated!