August 18th, 2021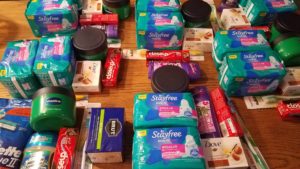 "It's good and fresh and clean, tra la la!"
….Do you remember this advert jingle for washing powder? It came to mind as we were blessed with wonderful toiletries packs for the Hlanganani Children. Feeling fresh, clean, and looking sharp is important to those we support.
Healthy hygiene practices also keep them safe from unwanted germs, therefore we are super grateful for these awesome toiletry packs that were donated by one of our ministry partners this month. Such an easy, but much-apprecaited way to show compassion! As one of the young girls said, these packs were "too, too good!"
Each pack blesses a child for two months and consists of soap, vaseline/cream, a toothbrush, toothpaste, deodorant, two sanitary pad packs (girls), and razors (boys).